BAA is located in downtown Bartlesville at 217 S. Comanche Ave in Comanche Center, just off Frank Phillips Blvd near the Caney Bridge
* * * Please note, the Bartlesville Art Association will be closed November 20 - 24 for Thanksgiving. Happy Holidays! * * *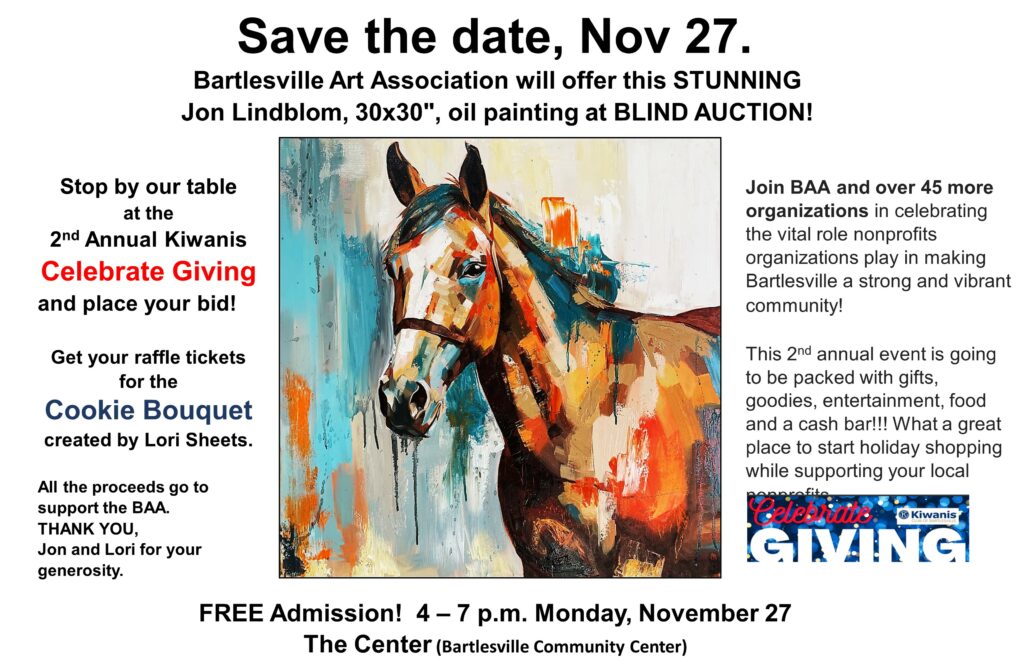 Be sure to check out this exhibit of artwork by ten amazing BAA artist at the Price Tower Gallery! Exhibit closes January 7th. 

Tuition Assistance is available for Adult and Children's Art Classes at the BAA!
BAA is committed to sharing the love of art throughout our vibrant community.
To that end, we have established  a scholarship fund for those in need of a bit of help with tuition to attend classes. 
For example, did you know that over 20% of the children attending our Summer Art Camp have tuition assistance?
Financial assistance for adults is also available. We ask that adults pay whatever they can towards a class and we'll make up the rest in exchange for volunteering at FUN BAA events. It's a win-win for everyone! It's super easy to apply for tuition assistance with this link.
BAA classes are open to members and non-members.
BAA art classes are open to members and non-members.
Paint a Red Rose – Watercolor Class for Beginners
There are a few spots left in this class. Register soon.
Back by popular demand!
Taught by Amy Jenkins
Monday evening, December 11 
5:30 – 8:00 pm.
In this class students will use transparent layers of watercolor and learn some helpful techniques to paint a red rose and background foliage. Amy will demonstrate each step and then the class will repeat the step on their paintings.  
This class is for adults at a beginner to intermediate level.
Kids After School Arts & Crafts
Instructor: Quincey Turner
Class meets once a week for 6 weeks starting on October 31, 2023
Grades K-2 meet weekly on Tuesday 4:30 pm – 6 pm for 6 weeks starting October 31 and ending December 12. 
Grades 3-5 meet weekly on Wednesday 4:30 pm – 6 pm for 6 weeks starting November 1 and ending December 13.
*Please note: There is NO CLASS Thanksgiving week.
"Art 101" Classes are taught by BAA members for BAA members.  You get one free "Art 101" class with your annual membership. These short, casual classes are a GREAT way to explore new mediums, stretch your wings and try something new!
Jan Brieschke's workshop: "Bordering on Abstraction - An Exploration of Ink and Watercolor" was a blast! THANK YOU, JAN!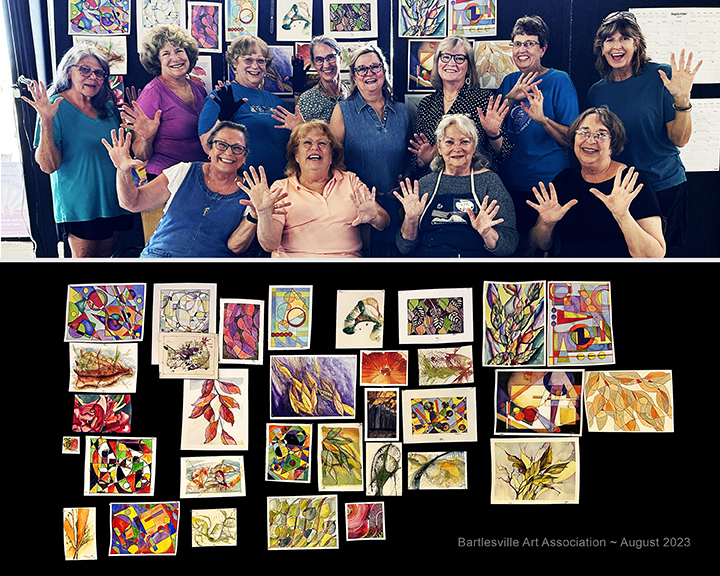 Our sincerest, heartfelt THANK YOU to EVERYONE who stepped up and helped make our new home a reality.
Tulsa Community Foundation
Bartlesville Art Association wishes to extend our most sincere THANK YOU to Tulsa Community Foundation for your $15,000.00 grant check for our relocation expenses! ! As your logo states, Tulsa is truly "America's most generous city"! 
Thank you, thank you for supporting Bartlesville's art community, especially during this time of uncertainty and transition!  
DSR - Diversified Systems Resources
Our condolences to the John Bond family and all at DSR. He was a great man, a kind man, and a true inspiration to all. We appreciate his incredible support of the arts in Bartlesville.
Thank you to DSR for donating $2,200 to pay for Glenn Security to install a comprehensive security system in our new center.
We also greatly appreciate your additional donation of $1000 towards our annual art show
Dear BAA members, friends and supporters,
FOUR YEAR RETROSPECTIVE
I write this as I wrap up four years as the board president.  It's been a wild ride. Only weeks after I stepped up, the pandemic brought down the world as we knew it. Classes were canceled, the BAA was shuttered and Zoom became the method of communicating. The down time gave us an opportunity to do some remodeling on our space in the Price Tower Annex including removing the old carpet and refinishing the concrete floors. They looked beautiful!
In spite of Covid, Steven and Cindy Graham went ahead with the 2020 Summer Art Camp armed with sanitizer, wipes and "keep your distance" markings on the floor.
The 2020 art show was virtual. Remember uploading photos of your entry and the awards event conducted via streaming Facebook? Lian Quan Zhen made the presentations from Las Vegas while I moderated.
In 2021, after the vaccinations became available, the BAA gradually returned to "normal".
In 2022, we hired MarLo Bailey who has become the engine running our organization. Also, BAA conducted the first ArtFull Day in the 'Ville which featured visits to local artists' studios and art demonstrations in the BAA. It was baby steps in returning to gathering in groups.
This year, the week after our second successful ArtFull Day in the 'Ville, the Price Tower was sold. A week later, we found ourselves looking for a new home. After examining every property in town, we found the Comanche Center site, orchestrated the big move, and are now settled in.
Despite the pandemic, I am proud that in 2022 the BAA established a fund for scholarships and tuition assistance for children and adults. Our annual Virginia Neely Sweet scholarships to graduating seniors for college were uninterrupted – our 2020 recipient did get her scholarship outside her home amidst a honking car rally. Nearly 20% of our Summer Arts Program students are on scholarship.  We welcome donations to our scholarship program. You can be assured the funds are appreciated by recipients.
Your BAA is looking forward to building on our 72 year long and rich history. I am grateful for the support, leadership, and hard work of all of our board members. Organizations don't run themselves!
PARTY!!
Mark Tuesday, December 5, 6:30 PM on your calendar for our annual membership party. We plan a casual social at the BAA. If you haven't seen our new digs, this will be a good time. We invite you to bring a "nibble" to share with others. If you are not a member, join us! We will have membership applications ready to be filled out.
Business Meeting at the party: There will be a short member meeting at 7PM. Members will be asked to vote for the slate of board members. There will be some minor changes to the bylaws that need to be accepted. We'll keep it short.
*Janet Odden   – President
*Cindy Wray   – Treasurer
*Still looking  –  Vice President
*Kathleen Rutledge  – Past President
*Denise Parks  –  Secretary
Amy Jenkins
Dedra Morgan
Steven Graham
Jarrett Cowden
Jon Lindblom
Fred Cook
Josh Waddell
Steve Russell
*Executive Committee
REMINDER!
Don't forget the Kiwanis Celebrate Giving event on November 27 from 4 to 7 PM at the Center. There will be a blind auction (highest blind bid wins!) of board member, Jon Lindblom's painting of a horse. Check the BAA website for a preview. The event showcases nonprofits in Bartlesville. There will be raffle drawings, prizes, cash bar, and giveaways.
And stop by Price Tower for the exhibit of 10 of the BAAs artists, "Art is Everywhere". The show will be on display until January.
VOLUNTEERS!
As I said, organizations don't run themselves. At the party, we will have sign up sheets for those willing to help with ArtFull Day in the 'Ville and a fund raiser being planned with it. We will be looking for help with the Annual Art Show scheduled at The Center in October '24 (formerly known as the Bartlesville Community Center).
We will have previews of upcoming classes and upcoming BAA events at the party.
Come join in the fun!
Kathleen Rutledge=
Did you know you don't have to be an artist to join the BAA?
We're a vibrant community of artists as well as art lovers! Join the fun and join the BAA today.
Want to hear about new and upcoming art classes & events? Sign up for updates: