BAA is now located at 217 S. Comanche Ave. at Frank Phillips Blvd. in the historic Comanche Center!
Our Art Show & Sale is on display through September 29 at the Lyon Gallery at Bartlesville Community Center.


The show will remain on display in the Lyon Gallery at the Community Center from August 25 through September 29 during The Center's regular open hours.
Be sure to check out this beautiful show full of fabulous artwork by very creative artists from all over the area!

We hope you can see the show in person and view all the pieces. Here is a sneak peek at the winning entries.
BAA art classes are open to members and non-members.
Drawing & Painting with Cris Sundquist
Drawing starts Monday, Sept 18.
Painting starts Monday, Sept 25.
Cris' classes at the Bartlesville Art Association were so popular last Spring, she's agreed to return this Fall with 8 weeks of Monday morning classes from 10 am – noon on the Fundamentals of Drawing and Monday afternoon classes from  1 – 3 pm on Oil & Acrylic Painting
$260 for 8 Weeks (best value)
also available
$50 drop-in cost per session payable at the door. Advance notice preferred.
Don't miss this opportunity to study with one of the best!
To learn more about each class click on the buttons.
Kids After School Arts & Crafts with Quincey
Three Evening Kid's Paint Classes with Elaine
Students will complete a cute seasonal painting in each two hour period with    artist / instructor Elaine Wilson!
When: 3 consecutive Mondays –          October 16, 23 and 30
Time: 5:30 -7:30 pm
Cost: $80 for all 3 classes or $30 each.      All supplies included!
Felt Flowers on Plush Pumpkins
Learn to Make Felt Flowers and Decorate Sherpa Plush Pumpkins
Artist / Instructor: Namrata Jaju
Saturday, October 21
10 a.m. – 11:15 a.m.
Cost: $45 (includes $20 for supplies)
At the end of the class, all the participants will have their own beautiful pumpkins that can be used as fall décor, Thanksgiving decors or can be a wonderful gift for your loved ones.
"Art 101" Classes are taught by BAA members for BAA members.  You get one free "Art 101" class with your annual membership. These short, casual classes are a GREAT way to explore new mediums, stretch your wings and try something new!
No Talent Tuesday is back for October!
Watercolor for Beginners – Paint a Red Rose
Taught by Award Winning watercolorist Amy Jenkins
Saturday October 21 from 2 – 4:30pm
$50 for class only or $60 for class and supplies (if you would prefer that Amy provide your supplies). 
In this class students will use transparent layers of watercolor and learn some helpful techniques to paint a red rose and background foliage
 Please register by October 15.
Live Model Drawing/Painting
4 sessions on Sunday afternoons from 2 pm – 4:30 pm
October 1, October 22, November 5, and November 19
Cost: $60 – includes all four sessions
Anne Spoon is the facilitator – she hires models, sets up the room and lighting on the models but doesn't give instruction.  Each artist works independently with whatever supplies they bring. 
With instructor Valerie Unruh
Date: Saturday, October 28, 2023
Time: 3:30 – 6:30 pm
Cost: $65.00  ~  All supplies will be provided.
In this 3 hour class you will create an acrylic painting of your pet with a little help from Valerie and her assistant!
This class is SO FUN it fills up fast so register SOON! Deadline to register is Friday,  October 20th.
FREE!   Open Studio every Wednesday from 10 AM – NOON.
Faciliator is Cheryl Bryan. 
Cheryl shares watercolor techniques on the first Wednesday Open Studio of each month.
OPEN STUDIO IS BACK beginning in August 2
**NOTE  NEW HOURS: 10 AM – NOON during the Summer due to the heat!
Remember, this class is a free membership benefit.
Jan Brieschke's workshop: "Bordering on Abstraction - An Exploration of Ink and Watercolor" was a blast! THANK YOU, JAN!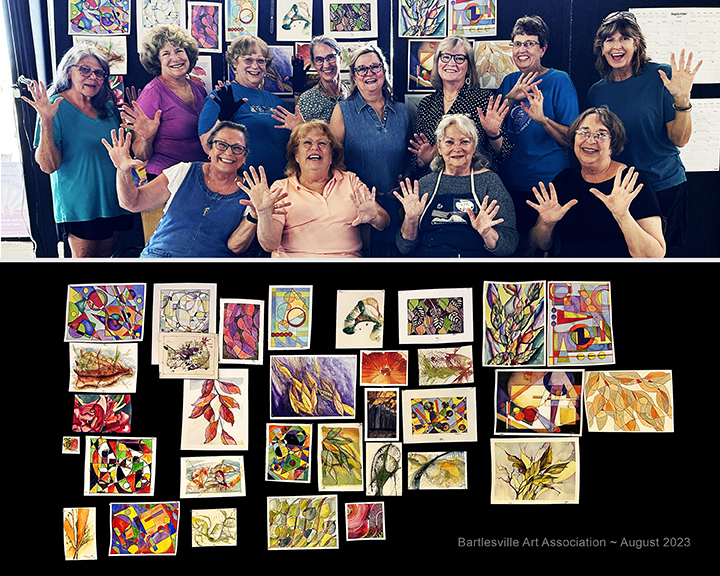 Our sincerest, heartfelt THANK YOU to EVERYONE who stepped up and helped make our new home a reality.
Tulsa Community Foundation
Bartlesville Art Association wishes to extend our most sincere THANK YOU to Tulsa Community Foundation for your $15,000.00 grant check for our relocation expenses! ! As your logo states, Tulsa is truly "America's most generous city"! 
Thank you, thank you for supporting Bartlesville's art community, especially during this time of uncertainty and transition!  
DSR - Diversified Systems Resources
Our condolences to the John Bond family and all at DSR. He was a great man, a kind man, and a true inspiration to all. We appreciate his incredible support of the arts in Bartlesville.
Thank you to DSR for donating $2,200 to pay for Glenn Security to install a comprehensive security system in our new center.
We also greatly appreciate your additional donation of $1000 towards our annual art show
Dear Members and Friends,
Bartlesville Art Association is no longer the best kept secret in Bartlesville!
A billboard, BMonthly magazine article, word of mouth, posters, and live radio broadcast all put out the word that we have a new home where we continue to make "happy little accidents" and so much more!
We had three great BAA and community events in the last several weeks. I estimated about 80 members came to the member's only open house at our new "digs" in Comanche Center. The feedback was great – good lighting, cozy, efficient set up, easy parking and access.
Our public opening was well attended. Several new members signed up as they munched on hotdogs provided by Regent Bank. Curious people listening to live KWON radio on site came by to check us out.
And finally, we had our Annual Art Show opening on August 25 at the Center. Over 200 people attended the opening and silent auction. Many local artists and vendors donated to the inaugural silent auction fundraiser. It went so well, we look forward to bigger and better selections for next year's opening reception and silent auction on October 4, 2024 judged by the renowned Clayton Beck. If you haven't been to the Lyon Gallery at the Center to the art show, it will be there until September 29.
Next, the BAA Members Only show will hang for the month of October in the glass display cases in the foyer of the Bartlesville Public Library.
New This Fall – Kids After School Arts and Crafts with Quincey. Quincey Turner, a very talented young woman, is teaching afterschool art classes for kids K through 5. Register on the BAA website. For more information on Quincey and to see her impressive body of work, go to quinceyturnerstudio.com
Fundamentals of Drawing and Oil/Acrylic painting classes begin with Cris Sundquist next Monday, September 18, for 8 weeks. There is still time to sign up for Cris' phenomenal classes on our website. And there is a new option to pay $50 per session "Drop-In" cost. Advance notice preferred. Just email us at bartlesvilleartassociation@gmail.com and let us know you plan to attend.
No Talent Tuesdays taught by Janet Odden began Tuesday the 12th and focuses on basic drawing skills.
Live Model Drawing/Painting with Anne Spoon begins October 1 on alternate Sunday afternoons.
Felt Flowers on Plush Pumpkins Saturday, Oct 21 with Namrata Jaju will be a fun start to the Fall season.
Watercolor for Beginners – Paint a Red Rose on Saturday, October 21 with award-winning watercolorist and former BAA board president, Amy Jenkins. See some of Amy's amazing paintings on here website amyjenkinsart.com
Super-popular, Paint Your Pet Party, returns Saturday, Oct 28 with Valerie Unruh. YAY!!!
Join us for Open Studio on Wednesdays with Cheryl Bryan. Open Studio is a member benefit. We welcome anyone to join the group for a session. After you see how much you learn and have fun doing it, we ask that you become a member for only $40 for a whole year of open studios (and your free "Art 101" class!).
Opportunities to display artwork are beginning to open up! Check them out. Artists are being invited to display and sell artwork at several places around town including the Palace Rooms, the Coffee Exchange in the Hotel Phillips, and next door at Suzie-Q Vintage Mall, our new neighbor in the Comanche Center.
Board Elections – Mark your calendars for Tuesday, December 5. We will have our Christmas/Holiday member social and annual meeting. At this meeting, a slate of board members will be presented to the membership for approval. The bylaws will require a vote as minor changes need to be made to reflect the new address and some changes in board make up.
We will recommend an Executive Committee of President, President Elect, Past President, Treasurer, and Secretary. The remaining board members will have responsibilities including Marketing, Membership, Annual Art Show, Art-FULL Day in the 'Ville, Donations and Fundraising to name a few. We are looking for nominations and volunteers for the board. I will be stepping down as President after 4 years.
Best regards,
Kathleen Rutledge
Did you know you don't have to be an artist to join the BAA?
We're a vibrant community of artists as well as art lovers! Join the fun and join the BAA today.
Want to hear about new and upcoming art classes & events? Sign up for updates: